The Great Barrier Reef's beauty, popularity and sheer size means you'll be spoiled for choice when looking for a trip to the reef. But which type of reef tour is ideal for you? Experience Oz breaks down the pros and cons of each type in detail here.
---
Arguably Australia's most important natural tourism asset, the Great Barrier Reef is estimated to contribute around $6.4 billion to the Australian economy each year. This is a big boon not only to Australia as a whole, but also to travellers looking to explore the reef, as a wide range of reef tour operators providing a host of different itineraries have sprung up to help you explore this expansive and gorgeous wonder.
While the huge number of tours, prices and itineraries to choose from may initially seem overwhelming, they all largely fall into one of three main categories: boat tours, island tours, or pontoon tours. Each tour type offers its own plusses and minuses – some are better for families, others cater to experienced divers, focus on providing extra facilities, and have other similar differentiating features.
So which type of Great Barrier Reef tour is ideal for you? We take a look at what each offers below.
---
Boat Tours
Pros:
Best possible reef quality
Can venture to more secluded and spectacular sites
Better for the experienced
Less crowded
Visit several locations on one trip
Cons:
Pricier
Higher chance of seasickness
Fewer facilities
More targeted at adults
Requires swimming confidence
Lack of supplementary activities
Popular operators/locations: Diver's Den (Cairns); Down Under Cruise & Dive (Cairns); Passions of Paradise; Silverswift (Cairns); Tusa Dive (Cairns)
For those after a more advanced itinerary that puts the focal point on experiencing the quality of the Great Barrier Reef at its absolute best – and have confidence in their own swimming, snorkelling or diving ability – it's hard to go past a boat-based reef tour. The ability to head more "off the beaten path" in terms of reef sites means you'll visit spots typically exposed to less visitor numbers that are further out on the Outer Reef and individual reefs within it, with healthier and more colourful reef to explore as a result.
Given that a visit to the Great Barrier Reef is typically a once-in-a-lifetime opportunity for many travellers, sacrificing some creature comforts and convenience in return for witnessing a denser proportion of marine life can be a more than reasonable trade-off provided you have the required level of confidence in the water.
In addition, while you'll be restricted solely to your tour operator's boat (and off the back) during the trip, modern reef tour vessels tend to be far more spacious and well-equipped than those of the past. Many operators in the likes of Cairns, Port Douglas and the Whitsundays have either upgraded or purchased entirely new vessels over the years, and it's not uncommon on the bigger boats to provide hot showers, buffet dining, spacious viewing decks and various other creature comforts to make a day on such a vessel more enjoyable.
Divers – both experienced and aspiring – in particular will want to opt for a boat tour, as you'll get to spend the majority of your day in the water while either being taught by a an experienced instructor (first-timers), or guided to some of the best spots in the area (certified divers).
The ability to head more "off the beaten path" in terms of reef sites means you'll visit spots typically exposed to less visitor numbers.
Boat tours tend to boast smaller guest numbers as well, meaning if you're the type who's after their own secluded little slice of the reef without having to share with plenty of other travellers or is looking for more personal interaction with the crew then they're a great option.
Of course, reef boat tours won't be for everybody; the aforementioned requirements of swimming ability go a long way to determining how much you enjoy one of these itineraries, as does your tolerance for seasickness. You're looking at around a 1.5 hour one-way journey from Cairns, for example, to the Outer Reef, and the boats themselves can rock and sway quite a bit more depending on water and weather conditions.
If you're looking for a diverse Great Barrier Reef experience that's augmented by several other activities to break things up, an island or pontoon tour would likely better suit your needs. However if you're keen to maximise your time on and under the water and seeing the Great Barrier Reef at its best and brightest – and are willing to pay slightly more for the privilege than an island tour – boat tours showcase of the marvels of the reef at their fullest.
---
Island Tours
Pros:
Cheaper
Faster to reach
Sand stability and relaxation
Tend to be more family-friendly
Snorkel right off the beach
More activities/amenities
Cons:
More crowded
Reef not as stunning
Higher number of families means may be noisier
Still requires boat trip out
Single site only; less variety
Popular operators/locations: Green Island (Cairns); Fitzroy Island (Cairns); Hamilton Island(Whitsundays); Whitsunday Island (Whitsundays); Lady Elliot Island (Southern GBR); Lady Musgrave Island (Southern GBR)
A little short on time or looking for the added confidence that having some actual, solid ground under your feet can give during your trip to the Great Barrier Reef? A reef island tour may just be for you. While there are over 900 islands of various sizes dotted throughout the expanse of the Great Barrier Reef, only a handful are developed and inhabited, while even fewer serve as the base for regular reef trip itineraries.
Many of these islands are located far closer to the mainland than the destinations on boat and pontoon based reef tours, and thus require much less of a time investment to reach as a result. Those with tighter schedules can therefore opt for an island tour which can sometimes be done in even half-day form, while still enjoying a nice sampling of some of the delights of the reef.
A number of Great Barrier Reef islands serviced by tour operators are surrounded by fringing reefs just off shore – all it takes is a snorkel and putting your head down to witness coral and marine life right in front of your face. While the quality and quantity of these varies on an island-by-island basis, they typically can't compare to the colour and variety that the Outer Great Barrier Reef offers, yet each may have something unique or special – a propensity for green sea turtles, manta rays, or various soft coral types, for example.
For families travelling to the Great Barrier Reef with younger children along for the ride in particular, an island can make for an ideal choice – the little ones can wade in the shallows, play on the sand, and quickly return to dry ground should some nerves arise. Seasickness also becomes far less of a factor here, with only the (shorter) boat ride there and back having a shot at upsetting queasy stomachs.
For families travelling to the Great Barrier Reef with younger children along for the ride in particular, an island can make for an ideal choice.
The reef's islands also provide a broader spectrum of things to see and do versus a boat tour; while this may again vary depending on the island, extra activities such as glass-bottom boat rides, marine trampolines, scenic flights and various other experiences can help round out a day (or two) and alleviate boredom. Many also have walking tracks through rainforest or to picturesque lookout points, while providing the chance to see native animal and bird life, too.
Lastly and most simply, island tours tend to be the cheapest of the standard reef tour offerings as well. This can help those with tighter budgets, but also contributes to larger groups and therefore sometimes more crowded conditions as well.
In all, island tours trend towards the family-friendly end of the spectrum and those after convenience and variety while sacrificing some of reef quality as a result.
A brief snapshot of popular Great Barrier Reef islands (for day trips) is as follows:
Green Island (from Cairns)
Good for: Families, backpackers, those short on time
The most commonly-visited and easily-accessed island from main reef tourist hub Cairns, Green Island checks all the boxes as far as balance is concerned. A coral cay fringed by reef, the island can be reached in around 45 minutes and offers some solid variety in terms of things to see and do. Snorkelling, semi submersible rides, scenic flights, sand beaches and rainforested national park land are all available on-island.
Green Island Resort is its sole accommodation offering for those looking to stay overnight.
Fitzroy Island (from Cairns)
Good for: Adult travellers, seniors, beachgoers
A true rock island and much larger than nearby Green Island, Fitzroy Island can also be reached in around 45 minutes from Cairns via ferry. The island is largely national park and is thus draped in greenery, with several great walking tracks to enjoy and one of Australia's best beaches in its flagship Nudey Beach.
Hiking, kayaking, dining and snorkelling are all viable here, while enjoying drinks at Foxy's Bar and stays at its enjoyable Fitzroy Island Resort are both popular options. Although growing in popularity, Fitzroy Island tends to have less visitors and can be quieter as a result, with camping on-island also a possibility.
Lady Elliot Island (from various locations)
Good for: Diving enthusiasts, snorkellers, those not worried about too many dining options
An eco-focused island and the southernmost of its kind on the Great Barrier Reef, Lady Elliot Island is both physically beautiful and known for one highlight in particular – the quality of its diving experiences. The coral cay is particularly renowned for diving with Manta Rays who use various coral structures off its shores as cleaning stations, and is thus a diver's paradise.
It also offers wonderful snorkelling, and supplementary activities such as reef walks and glass bottom boat tours as well as stays at its on-island Eco Resort. The island boasts its own airstrip and is accessible from a number of day tour locations by air including the Gold Coast, Brisbane and Hervey Bay.
Hamilton Island (from Whitsundays)
Good for: families, couples, those after more than just a reef or beach experience
The Whitsundays' flagship island is one of the most popular springboards for exploring the region, and offers the widest selection of things to see and do on its shores of any such island on the Great Barrier Reef. It's decked out with multiple levels of accommodation from high-end to ultra-luxe, offers plenty of options for dining, shopping, massage and other services, and has an excellent beach for aquatic activity and relaxation.
Its local fringing reef offers some decent snorkelling, however in reef trip terms it most commonly simply serves as the gateway or pickup point for reef tours that head further on to the Outer Reef beyond.
Whitsunday Island (from Whitsundays)
Good for: backpackers, adults, beachgoers
A large, uninhabited island within the Whitsundays group, Whitsunday Island has become an essential item on any regional itinerary largely due to one factor: being home to the gorgeous Whitehaven Beach, widely considered among the most beautiful of its kind in Australia. Famed for its ultra-white silica sand, the beach combines with surrounding snorkelling opportunities to make for a great cross-section of the azure-meets-gold panorama one would want in a Great Barrier Reef adventure.
There's no facilities here, and what is provided will come courtesy direct from your tour operator's vessel. Tours to Whitsunday Island depart from Airlie Beach on the mainland and via Hamilton Island as well.
---
Pontoon Tours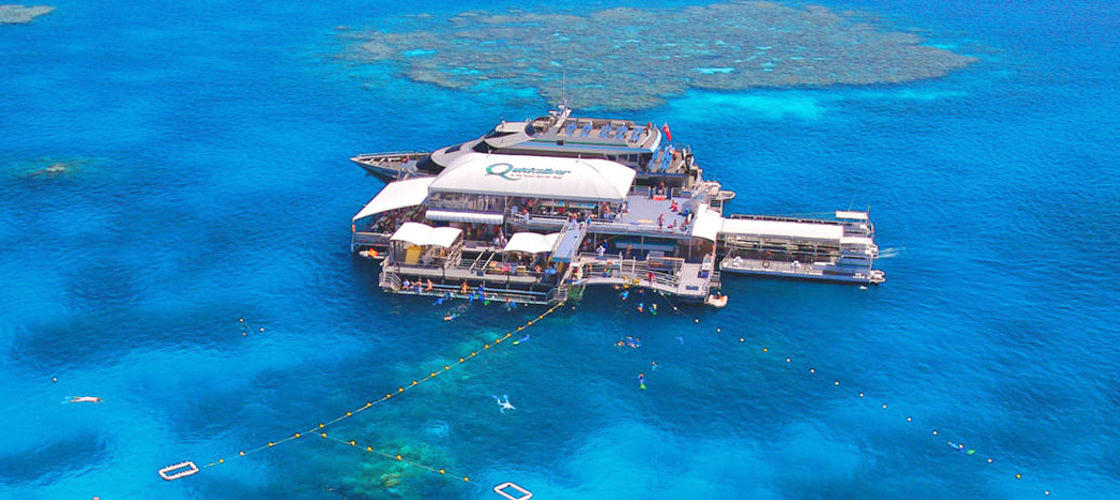 Pros:
Good balance between reef quality & convenience
Less seasickness than boats
Extra activities for non-swimmers
Unconfident swimmers feel safer
Family-friendly & good for seniors
Cons:
Can be pricier
Longer trip to Outer Reef
Bigger groups
Can be noisier
Popular operators/locations: Great Adventures (Cairns); Reef Magic Cruises (Cairns); Sunlover Cruises (Cairns); Quicksilver Cruises (Cairns/Port Douglas)
In many ways, pontoon tours take the best elements of both boat tours and island tours and combine them into an ideal balance of both. Conducted as trips to large, fixed "activity platforms" situated in prime spots on the Outer Reef, pontoon tours provide plenty of convenience in terms of amenities to go along with a typically higher quality of Great Barrier Reef marine environment than your more popular island day trips.
The pontoons are decked out quite substantially with both facilities and complementary activities to keep the majority of age groups and swimming abilities occupied – think underwater viewing decks, semi-sub and glass bottom boat rides, buffet dining, quality restrooms and showers, heli-pads and more. They're akin to "mini-hotels" floating out on the reef, and bring much of the stability and comfort that come with it.
Snorkellers can gradually make their way into the water from large swimming platforms that provide a more gentle access to the sea than many boats do, and as a result seniors and children in particular may find this a more comfortable proposition.
Reef quality is typically quite good here even for the average snorkeller, while options on many pontoons exist for experienced divers to head further out on extra trips to some great dive sites as well.
In many ways, pontoon tours take the best elements of boat tours and island tours and combine them into an ideal balance of both.
Of course, as with standard boat trips, getting to the Outer Reef at which the pontoons are situated takes longer than most island trips (expect around 1.5 hours one-way), while their popularity also makes them the target of larger groups you'll often have to share with as well.
Prices of pontoon tours tend towards the higher end of the spectrum as far as Great Barrier Reef day trips go as well in order to cover the mixture of both travel time and extra inclusions, with the costs to run and maintain such extended facilities not insignificant. Lunch and refreshments typically come included as part of the itinerary fee, however.
If you're willing to pay a little extra, pontoon tours will likely meet the majority of needs for any mixed group of travellers visiting the Great Barrier Reef. All of older travellers, confident swimmers, children and the swimming-averse will find something to keep themselves entertained at a pontoon in return for the investment of time and money they require, so if you're having to please multiple tastes in the one trip they're likely going to be the best choice.
---
Bonus tour type: Sand Cays
Pros:
Postcard-like sand-and-water scenery
Tend towards highly romantic
Good for couples, marriage proposals, etc.
Quieter and more secluded
Cons:
Lack of facilities other than the boat
Not much to do on-shore
Some feature ample (noisy) bird life
Strictly adult-focused
Popular operators/locations: Ocean Spirit Cruises (Michaelmas Cay – Cairns); Ocean Freedom (Upolu Cay – Cairns); Calypso (Low Isles – Port Douglas); Sailaway (Low Isles – Port Douglas); Wavedancer (Low Isles – Port Douglas)
One last, fairly popular alternate option for day trips are the region's sand cays – smaller flecks of yellow-white that are typically more sparsely-vegetated and look like an oasis in the middle of the ocean. They're undeveloped clumps of sand fringed by reef that's the stuff of postcards yet don't offer much outside of a stroll on their surface and then enjoying the (often gorgeous) reef environs which encircle them.
Their lack of facilities (and visitor traffic in general) along with their inherent physical beauty have thus made them a popular go-to spot on the Great Barrier Reef for couples and romantic occasions in general; if you've seen a "lovers" shot featuring a photogenic young duo hand-in-hand in the region, it was likely taken at one of these.
You'll be entirely reliant on whatever amenities your tour operator's vessel offers during your visit to a sand cay, yet as with boat-based reef tours they typically offer enough to provide comfort, dining and refreshment that's suitable for a single day.
And in the stability of sand underfoot, the wonderful, open environment they provide, a lack of crowds to share them with and ample opportunities for photos, and the sand cays fill a particular Great Barrier Reef niche that some of the other reef tours won't provide.
In addition, if you're looking for further ideas on activities, attractions and other things to do on the Great Barrier Reef, don't hesitate to check out our main Great Barrier Reef section for an extended catalogue of things to do!