From the stunning golden beaches and theme parks to whale watching and rainforest tours, the Gold Coast is an entertainment hub has it all for holidaymakers. Combine this with the region's famously beautiful weather, and it's safe to say the Gold Coast is known as Australia's holiday playground for good reason.
The Gold Coast's variety is what makes it special with elements that make it a destination where outdoor activities are viable almost all year round, and the list of things to do is nearly endless.
An average of 300 days of sunshine throughout the year means regardless of if you're sticking to the coast, heading to the hinterland or looking for some indoor or evening entertainment, you'll be spoiled for choice here.
But with so much to see and do, how does a visitor decide the best activities to take part in? Here, we break down the Top 10 Things to Do on the Gold Coast.
---
Location: Broadbeach, Gold Coast, QLD
Dracula's Cabaret is a long-running entertainment venue that provides a dose of raunchy fun blended with humour and a touch of fun intended mainly for adults. Both standalone show tickets and combined dinner-with-show packages are available.
The venue features a glam-horror theme and combines burlesque-style entertainment with live rock music and stand-up comedy performed by their talented cast. If you're the type who doesn't take yourself too seriously and enjoy live acts then it's a great spot to go as a group.
With shows held during the week and on the weekend, you'll want to get in quick as its reputation precedes itself and often results in shows filling up very quickly.
Experience Oz + NZ recently enjoyed the VIP seating at Dracula's on the Gold Coast, read their review and book your spot for an upcoming show online!
---
Location: Surfers Paradise and Marina Mirage, Gold Coast, QLD
Taking a step away from the standard sightseeing cruise, the Gold Coast offers numerous opportunities for jet boat rides. This provides a more adventurous way of exploring the waters while garnering a dose of adrenaline as well.
Heading out onto the Gold Coast Broadwater with a jet boat ride you'll be able to take in the city skyline and surrounding islands and marinas while performing some extreme water-based stunts. Think 360-degree spins, high-speed drifting and taking advantage of the boat's construction for some beach buzzing as well.
It's a fun activity that is enjoyable for most people as it isn't too extreme. Jet boat rides on the Gold Coast have the added bonus of providing great views of local landmarks including the likes of South Stradbroke Island, the Palazzo Versace hotel, and Sea World. As a result, it's the ideal activity for those who want to do some sightseeing but also have a little fun along the way.
Rides typically last 30 minutes or 1 hour are suitable for kids and adults.
---
Location: Various departure points, Gold Coast
The Gold Coast is one of Australia's premier whale watching destinations and during the annual whale migration season, as the humpbacks come out to play, you'll be able to get up close to these gentle giants.
Lasting from late May to early November each year, the whales make for a spectacular sight as they perform their regular trip up the east coast of Australia searching for warmer waters. The Gold Coast's seaside location makes it an ideal spot to get out on the water and get a firsthand look as they breach, spout and relax.
The Gold Coast typically has a very high number of whales passing through and with a five month whale season, there are plenty of chances for visitors to take part.
There are also a variety of operators to choose from each with their own benefits. Some offer longer trips, others include bonus lunches, or perhaps packages that combine with other essential Gold Coast experiences at a reduced price.
Over 10,000 whales pass close to the Gold Coast's shores every season, and the city has a large, shallow bay that serves as an ideal location for the whales to rest and mingle on their way to the Great Barrier Reef. If you're interested in doing some whale watching during your time on the Gold Coast, it's a good idea to plan your trip in late May or early June.
Many of the operators who provide whale watching tours also offer whale sighting money-back guarantees or at least a free return trip if no whales are sighted as well, providing a bit of extra peace of mind if you're thinking of booking.
---
Location: Various departure points, Gold Coast
Water is a central theme on the Gold Coast and the beaches aren't the only source of fun and entertainment. The city has a highly developed and quite scenic canal system that is actually larger than those of both Amsterdam and Venice combined.
As a result, there are plenty of different cruises on offer that allow visitors to explore the city and its waters from a whole other vantage point. Whether it's the ocean or the canals, on a sunny day (which the Gold Coast has plenty of) the colour of the water can be quite spectacular.
Cruises on the Gold Coast take part typically either within the canal system or out on the  Broadwater (or sometimes both) and offer detailed commentary on local history and highlights. This makes them a solid choice of sightseeing options for first-time visitors to the region.
There are numerous cruises available, you choose from sightseeing cruises, lunch or dinner cruises, crab-catching cruises and sailing cruises. However, you choose to do so, seeing the Gold Coast from the water can provide you with a whole new perspective of the region.
---
6. Hit the Bars or Nightclubs
Location: Majority centred around Cavill & Orchid Avenues, Surfers Paradise
The vibrant nightlife of the Gold Coast is another one of the popular drawcards for people to visit, and while there of plenty of nice dining areas and shopping centres, the focal point of all this is without a doubt Surfers Paradise.
Surfers is home to a wide array of nightclubs and bars that are simultaneously one of its biggest attractions. The majority of the Gold Coast's nightlife is concentrated around the hub streets of Cavill and Orchid Avenues in the heart of Surfers Paradise, and each club offers its own take on the typical clubbing experience.
Other suburbs such as Broadbeach and Coolangatta to the south also offer additional nightlife options for those looking for an alternative to the main hub.
Long-time staple nightclubs on the Gold Coast include Melbas, Shooters, Sin City, The Avenue and various others. For a full, detailed look at what each club has to offer, check out our Gold Coast Nightclubs Guide for an in-depth breakdown.
---
Location: Approx. 45-minute drive from Surfers Paradise, Gold Coast
While the gold is what most people think of with the Gold Coast, it's the green areas that round out the package and make visiting the region such a solid overall experience.
All it takes is roughly a 45-minute drive from the heart of the glitz and glamour in Surfers Paradise and you'll find yourself in the Gold Coast Hinterland, an oasis of greenery and scenery that feels like it is the world away from the main tourism hub.
It's a gem of an area that is still relatively untouched given its proximity to one of Australia's top holiday spots, and features the likes of glow worm caves, cascading waterfalls, wonderful mountain views and wineries all within a reasonably close distance of one another.
The laid-back atmosphere and abundance of greenery on offer here may surprise new visitors, and may, in fact, turn out to be your favourite part of the trip to the Gold Coast.
All of this centres around the lovely Mount Tamborine and the various World Heritage-Listed National Parks which provide plenty of great vantage points for taking in the views that spread out into the distance beyond.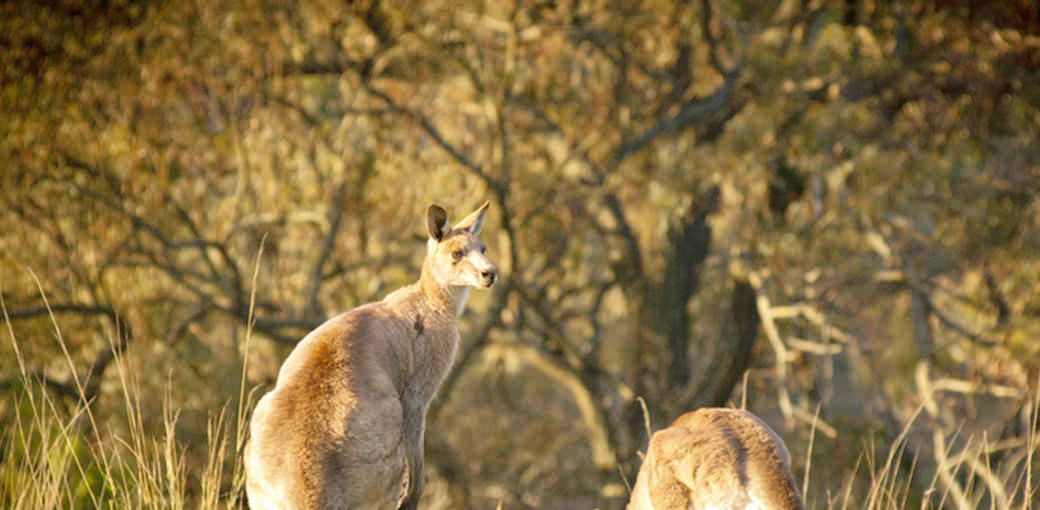 There are numerous options available for exploring the Gold Coast Hinterland, you can drive yourself (it's quite a scenic route) although the roads tend to be steep and windy, while there are also various tours, which can take some of the hassles out of the adventure and take you directly to the winery or sightseeing area of your choice.
Horse riding in the Hinterland is also quite popular and provides plenty of chances for exploration around the scenic Natural Bridge area, allowing you to combine a dose of wildlife with your sightseeing (and always a hit with the kids).
There's also the charming mini-village of Gallery Walk that features a range of quaint, boutique arts and craft stores producing everything from oil paintings to honey, and charming little cafes that allow you to kick back and revel in the greenery. If you're looking for a break from the typical Gold Coast, then making the trip to the Hinterland is well worth the effort.
---
4. Go to the Beach
Location: Various locations along the coastline, Gold Coast
If there's one thing that the Gold Coast is famous for, it is the beaches – and with around 57 kilometres of beach available, there are plenty to choose from for those who love their surf and sunshine.
Which beach you choose to visit will likely depend on a variety of things; where you're living or staying, whether you're bringing kids, or if you're looking to swim or surf.
Each of the main beaches on the coast, including Broadbeach, Burleigh Heads, Coolangatta, Currumbin, Duranbah, Kirra, Main Beach, Nobby Beach, Palm Beach and perhaps most famously, Surfers Paradise, offer something slightly different, however, all of them are of a universally high quality and exceptionally clean.
All of the beaches listed above are regularly patrolled by volunteer Surf Life Savers, and many offer some blend of public picnic and barbeque areas, nearby cafes and restaurants, and great walking tracks.
For a more comprehensive and detailed breakdown of each Gold Coast beach and what it has to offer, check out our Gold Coast Beaches Guide to help determine which beach on the "Goldy" is the best choice for you.
---
Location: 9 Hamilton Ave, Surfers Paradise, Gold Coast
Most major cities have their iconic towers and the Gold Coast's answer to this is the towering Q1 Building and its viewing platform on the 77th floor named the SkyPoint Observation Deck.
Venturing to the top of the tower offers some stunning 360-degree views of all the sights that the Gold Coast is famous for. Think vibrant blue ocean, the Surfers Paradise skyline, lush green hinterland, and perhaps most of all, the endless kilometres of golden beaches below.
The SkyPoint Deck serves as a great starting point for your visit to the Gold Coast as it will allow you to get your bearings and can be easily found right in the heart of Surfers Paradise. Be sure to bring your camera along if you're making the trip up top, as you're unlikely to find another viewpoint in the region that can compare.
The SkyPoint Deck also serves as a bar and restaurant, so whether you simply choose to take in the views as most do or turn your visit into a dining experience is entirely up to you.
SkyPoint also offers a SkyPoint Climb experience that allows you to harness up and go outside the glass for an adventure that is both stunning and thrilling.
There is no other place on the Gold Coast that can offer views quite like the SkyPoint Observation Deck, making it a must-do.
---
Location: 28 Tomewin St, Currumbin, Gold Coast
One of the longest-running and most beloved attractions on the Gold Coast, Currumbin Wildlife Sanctuary is the definitive place of choice for those looking to get a dose of family-friendly animal fun on the Gold Coast.
Previously called Currumbin Bird Sanctuary, the facility offers a full and great value day out with reasonable prices on tickets and a wide variety of native Australian and exotic wildlife. Currumbin Wildlife Sanctuary features interactive displays and wide-open enclosures all set within a lush, cool eucalyptus and rainforest environment.
Currumbin Wildlife Sanctuary is both easy to find and easy to get to, with a location just off the Gold Coast Highway at Currumbin, around 20 minutes' drive from Surfers Paradise and with bus stops right on its doorstep.
Families will be in their element here, as the park offers not only a great variety of animals but also its iconic train that takes you around the park regularly, this is something kids love and it gives parents a chance to rest their legs.
In addition, Currumbin Sanctuary also has a fun tree ropes course called the Green Challenge which is likewise a huge hit with the little ones at just a few dollars extra charge.
If you're wanting to hand feed kangaroos, cuddle a koala, see wombats, echidnas, emus and more, then Currumbin Wildlife Sanctuary is your destination of choice on the Gold Coast.
---
Location: Various locations, northern end of Gold Coast
The region's theme parks are major features that set the Gold Coast apart from other popular holiday destinations in Australia. The parks are a huge drawcard for many people visiting from both interstate and overseas and are the major reason the city is such a popular spot for families.
It's not without reason as each of the theme parks is a quality attraction in their own right, and each one offers something slightly different to the next.
From the high-quality thrill rides of Dreamworld to everyone's favourite film and cartoon characters at Movie World to the watery, aquatic fun available at both Sea World and Wet 'n' Wild, there's a theme park on the Gold Coast for all age groups, interest types and weather conditions.
While they're best visited outside school holidays, each of the parks has grown over the years to accommodate large crowds. The immense variety of rides and sideshows for all ages also provides something interesting to see, try or ride at all times of the day.
While buying tickets to the theme parks isn't cheap, there are numerous passes and package options available that give greater value than standalone one-day entry tickets. Options include passes for three parks for 7 consecutive days, unlimited entry for a few weeks, and even full-blown VIP style theme park packages that allow an entire year worth of unlimited entry.
These passes change regularly with sales and discounts sporadically appearing. Check our Gold Coast theme parks section for an up to date listing of value passes for the parks.
Regardless of what your style of the theme park is – and particularly if you have kids – if it's your first time to the Gold Coast you'll no doubt want to pay a visit to one of these high-quality entertainment attractions.
---
---
In addition, if you're looking for all the top things to see and do in and around the Gold Coast including activities, attractions and more, be sure to check out our main region section to browse and book online!