If you're looking to treat yourself with some delicious eats, then Melbourne should be your go-to destination.
Voted the most liveable city and home to a number of award-winning eateries, you can't go wrong with a foodie trip to Melbourne.
Around every corner and in every laneway there is a coffee shop, cafe or burger joint that will blow your bib off when it comes to flavour.
Those planning a trip to the Victorian capital who have a big appetite will be pleased to know the city is bubbling over with food experiences to satisfy your cravings. Here, we've outlined our top 10 picks for delicious things to do in Melbourne.
Location: 24 Thompson Street, Abbotsford
Carlton Brewhouse is synonymous with Melbourne so it's only fitting that visiting this iconic brewery has made our list of delicious things to do. Luckily for us, they've opened their doors to allow us to peek behind the barrels and catch a glimpse of how this iconic beer is made.
With one of the friendly staff members leading the way, you'll venture behind the doors to tour the brewery and learn about the beer-making process and the brand's 150-year history from the experts. A highlight of the tour is definitely the River of Beer holding 150,000-litres of beer brewed fresh each day – wow!
Once all the learning s finished, the good part starts – the tastings. You'll be able to taste some of the brand's most popular beers, including Carlton Draught and Victoria Bitter, appreciating every sip even more now that you can appreciate the lengthy process that went into its creation.
To accompany your tastings – and to add some substantial food to your stomach – you can purchase a delicious lunch. The menu consists of a range of favourite meals with a clear theme, including Fat Yak crispy chicken, a VB Burger, and Beer Braised pulled pork roll (BRB my mouth is watering).
The entire experience takes around 2 hours, but if you're keen to add a yummy meal onto the end of the tour you'll be there a bit longer.
Location: Corner of Cecil Street & Coventry Street, Melbourne
Did someone say coffee? Australia is known for its insane coffee culture and that is epitomised by the Victorian capital. With a cafe, coffee cart or hole in the wall coffee shop on almost every corner and in every laneway, you could say that Melbournites are rather fond of their coffee… okay, they LOVE their coffee, and boy do they do it well.
But with so many coffee joints popping up left, right and centre, it can be hard to find the perfect place to suit your taste. That's where the coffee-loving team at Walk Melbourne come into play. They know the best spots and can take you directly to the door with their coffee walking tour so you don't have to taste test your way around the city.
Visiting four great coffee venues and tasting a different type of coffee at each, you'll walk away (or bounce away) from this tour with a new appreciation for coffee, a new favourite cafe and great caffeine buzz. As you walk around the city visiting each venue you'll also learn about Melbourne as a whole and its thriving coffee scene. Walking amongst the coffee cup wielding locals, you'll soon feel at home in this beautiful city!
With this small and intimate group tour, you'll learn about the different cafes you've visited and the crop-to-cup story about the coffee you're enjoying today.
A unique way to enjoy your morning coffee in Melbourne, this tour is great for coffee-lovers of all types. Whether you like a flat white, short black or a sweetened mocha, your taste buds will be well looked after on this journey.
Tours depart Thursdays and Saturdays at 10 am from the corner of La Trobe and Elizabeth Streets (Thursdays only) and Cecil and Coventry Streets (Saturdays only). So change your morning coffee plans with friends and take them on an adventure around the city visiting numerous cafes instead!
Location: 319 Brunswick St, Fitzroy
While there may be no food involved with this experience, it doesn't mean it isn't delicious. The drinks served at IceBar Melbourne are chilled to perfection and full of flavour. The only ice bar in the country, you can't pass up the chance to don a poncho and relax (or shiver) in what is literally the coolest place in town.
Entering freezing cold temperatures reflective of those felt in the Arctic, you'll be able to warm up with a yummy cocktail, shot, or for those not drinking, enough soft drink to get you moving.
This experience is awesome from the moment you arrive! You'll be fitted with some warm snow gear and ushered into the cool room to grab your drink and try to climatise yourself to this shocking new temperature. You're able to purchase your package online before you go, so be sure to have a think about what you want to drink before buying them.
There's Standard Entry which includes a cocktail for the adults or an ice mocktail for the kids, Non-alcoholic Entry with an ice mocktail and photo, Delux Entry which includes a cocktail and ice shot, and Premium Entry with a cocktail, ice shot and photo.
Unfortunately, you're not allowed to take your own camera into the bar, but there are self-activated cameras inside that can capture this awesome moment.
This is perfect if you're looking to grab a drink with friends but add a little bit of a twist to your usual meet up and it's a great way to cool down from that uncomfortable summer heat.
8. Have breakfast at Hardware Societe
Location: 120 Hardware Street, Melbourne
A favourite amongst locals, Hardware Societe know how to do breakfast. Arguably one of the best cafes in Melbourne, Hardware Societe is often filled to the brim with coffee-obsessed locals and visitors in the know eager to grab a bite to eat at breakfast and lunch.
So if you find yourself wandering around the city looking for somewhere to grab a bite to eat, open Google Maps and make a b-line to Hardware Street, you won't regret it (especially if you get in early enough to beat the crowds)
Creating, cooking and baking a range of meals to satisfy even the fussiest of eaters. The selection of sweets lining the counter, biscuits and croissants in the case and delicious creations such as baked eggs with chorizo and piquillo peppers coming out of head chef, Jean Paul Dargan's kitchen are sure to stop the rumble in your tummy and put a smile on your face.
Some other standouts on the menu include the Pork Belly and Fried Eggs, the Duck Au Vin and the Croque Madame. To accompany these amazing dishes, you'll have to narrow down your choice of drink from a list featuring lattes, cold drip coffees, matcha green tea, housemade iced tea and juice to name a few.
Cooking up a storm and brewing some delicious coffee seven days a week, Hardware Societe has its doors open from 7:30 am to 3 pm on weekdays to accommodate those early risers and 8:30 am to 2 pm on weekends.
Location: Southbank Promenade, Southbank, Berth 3, Melbourne
Combine two iconic Melbourne experiences; cruising on the Yarra Valley and dining out, into one perfect evening with the awesome team at Melbourne River Cruises. This is the ultimate night out that also adds a touch of romance, making it perfect for those seeking delicious date night ideas.
With not one, not two, but four courses to enjoy on the water of this iconic river, this is a night out that will satisfy all culinary kings and queens. The menu is made up of some seriously mouthwatering dishes. For the entree, you'll be served a tasting platter of balsamic glazed smoked lamb on mashed potato, shredded chicken tossed with sesame glass noodle salad and prawn and scallop cocktail – YUM.
The main course is chosen prior to boarding at the time of booking, so you'll want to choose carefully. Some of the dishes available include marinated basil pesto chargrilled chicken breast with a corn polenta wedge, green peas and porcini cream sauce, crispy skinned Moroccan salmon fillet with a potato rosti, avocado salsa and caper mayonnaise, pan-fried beef eye fillet topped with prawns atop mashed pumpkin and potato, broccoli and creamy garlic jus, and an oven-baked vegetable filo wrap on spinach puree with garden salad.
The food doesn't stop there, dessert is also enjoyed on the boat and will definitely not disappoint. Why choose one when you can have them all? Dessert is a tasting platter of a collection of different desserts, so you can taste bits of everything without getting food envy. Lastly, you'll be served an Australian cheese platter to accompany the premium selection of wines, beers, spirits and soft drinks you've been enjoying on board all night.
While the food is a very important part of this adventure, you can't forget to look up and outside at the beautiful views around you. Winding its way through the city and the surrounding suburbs, this three-hour cruise doubles as a great sightseeing adventure. With the twinkling lights of the city as your backdrop for the evening, you'll be truly spoilt as you relax on the vessel as it cruises along the iconic Yarra River.
These popular dinner cruises leave the dock every Thursday, Friday and Saturday at 7:30 pm, making it a great way to bring in the weekend.
Location: 42 Chapel Street, Windsor
A totally Instagrammable burger joint (you'll be hashtagging #californiaburgersmelb from the moment your food arrives), California Burgers has brought the West Coast of America to the south coast of Australia and we are forever grateful. Cooking up some California-inspired burgers set to make your mouth water, you'll find the likes of beef, fried chicken and turkey burgers in the form of The Malibu Burger, The Calabasas and The L.A.X Burger.
It's not just about burgers though, the menu also consists of the fries for the side, a range of tacos, chicken with a number of sides, souvlaki and salad.
But wait, it doesn't stop there! California Burgers has recently introduced their new and delicious doughnuts. Not your average cinnamon coated ring, these doughnuts are Beignets covered in powdered sugar or your choice of topping – yum! Best of all, they're made to order so you'll be handed a hot Beignet ready to be devoured.
Created from a love for all things California, this Chapel Street favourite has been cooking up a storm for more than 10 years. All beef patties are made and hand-smashed onsite daily by the passionate team, as is their iconic pink mayo, while the burger buns are delivered fresh every day so you know when you're burger arrives it's as fresh as they get. Originally opened as a secret menu in Melbourne we're so thankful that California Burgers moved to a permanent position in Windsor to share the deliciousness with everyone.
Amongst the variety of burger restaurants in the city, California Burger stands out as being one of the best and once you've bitten into one of their delicious creations, you'll soon understand why. With a passion for making delicious food everyone can enjoy and serving it with a smile on their face, California Burgers works hard to make your burger experience the best it can be.
Location: Tram Stop 125 Normanby Road, South Melbourne
This is not your average tram ride. It's unlike anything you've experienced before on a tram in Melbourne. Instead of crowded carts, you'll have enough space to stretch out, rather than trying not to spill your morning coffee as you navigate down the cart, you'll be able to cheers with a full glass of champagne, and instead of your usual work attire, you'll be able to dress to impress for the evening.
The Colonial Tramcar Restaurant is a hit with visitors and locals alike and if you're searching for an evening out away from the norm, this is the perfect alternative. Navigating its way around the city 7 days a week and serving up food for lunch, early dinner and late dinner, this is an all-occasion experience that all ages can enjoy.
Those dining for lunch will enjoy a four-course meal taking in the sights of the city during the day, while the evening diners have the choice of a three-course early dinner or five-course late dinner. With an atmosphere to rival some of the city's best restaurants, you'll be able to combine great food, a great vibe and great views all into one awesome day or night.
The best part about the Colonial Tramcar Restaurant? There is a fully stocked bar on board so you can sip some of the best wines from around the country while you soak up this awesome experience.
4. Have some afternoon tea at the Hotel Windsor
Location: 111 Spring Street, Melbourne
Dress to impress and get ready to be pampered with a seat at the Hotel Windsor's afternoon tea. Often acclaimed as being the city's best high tea, The Hotel Windsor puts on a spread fit for a queen. The weekday and weekend menus differ, however, both list a number of high tea favourites such as quiche, ribbon sandwiches, tarts and scones accompanied by some premium wines, champagnes and sparkling wines.
An essential Melbourne Experience, The Hotel Windsor has perfected their high tea experience having served more than two million guests since it opened in 1883. Before visiting you can brush up on your etiquette skills to ensure you, and everyone dining with you has an enjoyable experience. The Hotel Windsor can teach you how to deal with 'tier panic', how to correctly hold a teacup and where to place your napkin on the table – all of the important high tea things.
Opening their doors seven days a week, this is a great way to catch up with friends or simply dine by yourself in style. Seating sessions are from noon to 2 pm Mondays and Tuesdays, noon to 2 pm and 2:30 pm to 4:30 pm on Wednesdays and Fridays, noon to 2 pm and 3 pm to 5 pm on Saturdays and Sundays.
Location: Corner of Flinders Lane & Elizabeth Street, Mebourne
If you love a good serving of dumplings then you won't want to miss this tour. Taking you to four of the city's best dumpling joints, make sure to arrive on empty before you start this delicious adventure.
Who doesn't love a good serving of dumplings? Luckily for those living in and visiting Melbourne, the city is home to some of the best dumpling houses and with this delicious tour you can visit and taste your way through some of them. Walking through the doors of four different restaurants and tasting four different dumpling styles, you'll definitely want to start this experience with an empty stomach.
All of the dumplings are handmade on site in each of the four handpicked venues, so you know you'll be served fresh and authentic dumplings. It's not just about eating on this tour – though that is the main focus, of course – it's also about learning. You'll learn about the city you're exploring and the dumplings you're eating. For those who are brave enough, you can take things a step towards the insane by tasting the hottest chilli sauce in Melbourne – talk about a hot date!
Thankfully, this is a walking tour, so you'll be able to make some room in between sessions while also exploring the streets of Melbourne's CBD. With the friendly team at Walk Melbourne, you'll walk along a perfectly mapped route from venue to venue taking in the sites and pausing for a few much-needed rests after eating all of the dumplings.
Tours depart on Wednesdays and Thursdays and accommodate small groups, so you'll want to get in early to ensure you have a spot on the tour. You'll meet the eagerly awaiting – and hungry – group on the corner of Flinders Lane and Elizabeth Street to begin the walk.
If you love dumplings then you'll love this tour!
2. Line up early to dine at Chin Chin
Location: 125 Flinders Lane, Melbourne
One of Melbourne's most talked about restaurants, Chin Chin is a definite must for anyone in the city looking for delicious Thai food. A table for dinner is highly sought after on any given night and with no bookings for small parties, you'll want to arrive early to either be seated before the rush or put your name down before there is a 3-hour wait.
Ask anyone who dines out in Melbourne, Chin Chin is the place to be and they have an incredible menu to back up the rave reviews.
Some of the stand out dishes that have been tried and tested by myself (it was a tough job) are the Chin Chin Pork "Roll Ups" for entree; a deconstructed pancake with melt-in-your-mouth pulled pork, and Pad Seuw of Braised Wagyu Beef for main; Chin Chin's take on this popular dish is simply incredible, trust me, order the Pad Seuw.
Other highlights on the menu include the Butter Chicken Curry; another incredible take on this crowd favourite, and the Stir Fried Green Beans are a big hit. Top it all off with a side serving of coconut rice and roti and you'll never want to eat any other Thai food again.
Unfortunately, I didn't have any room for dessert but if a Palm Sugar Ice Cream Sunday and Banana Roti sound good to you, make sure to save some room at the end of your meal.
Chin Chin is conveniently located in Melbourne's CBD on Flinders Lane, making it walking distance to all major accommodation in the city. The restaurant is open to walk-ins 7 days a week from 11 am to late and only accept bookings for groups of 10 or more.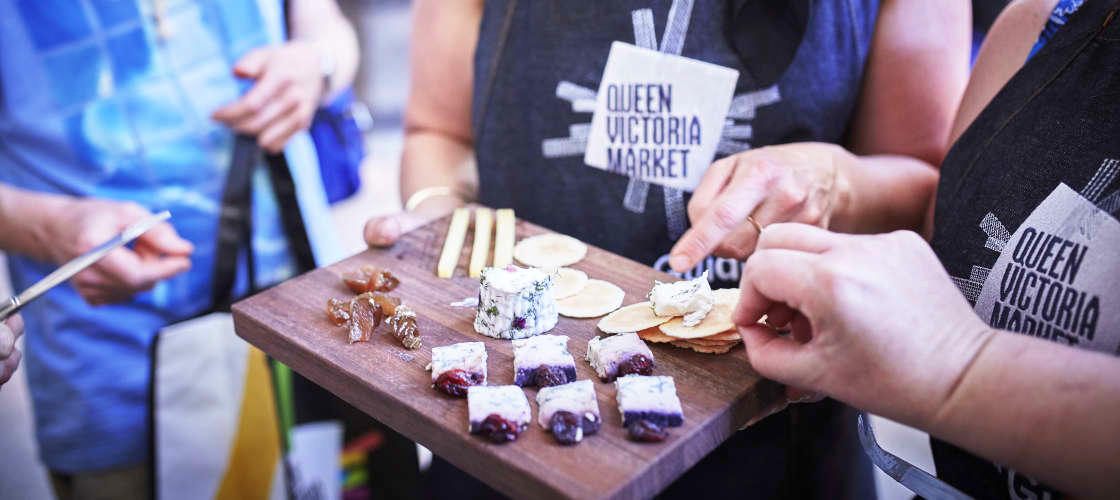 Location: Queen Street, Melbourne
Since 1878 the Queen Victoria Markets have been feeding the people of Melbourne with their incredibly fresh fruit, vegetables, poultry, meat and seafood, and over the years it has grown to become the number one foodie destination in Melbourne. On any given day, you'll find hoards of locals and visitors flocking to the iconic marketplace with empty shopping bags and empty stomachs.
In addition to the fresh produce – which is also great value – you'll be able to browse a number of ready-to-eat stalls serving up a range of food. You'll find everything from spiral potatoes to curry in the open air and enclosed marketplace, and if you've come at the beginning of the day you'll be able to spend your time grazing successfully from breakfast until lunch.
The delicious food and fun aren't reserved for the daytime though, through the summer months (and parts of winter too) the market stalls keep cooking well into the evening with the arrival of The Night Market. With the balmy weather, twinkling fairy lights and aromatic food stalls, you'll be overcome with excitement for a delicious treat from the moment you set foot into the marketplace. Running from the 15th of November, 2017 until the 11th of April, 2018, the stall holders, food vendors and entertainers are open for business from 5 pm to 1 pm every Wednesday.
Some of the standout traders include American Doughnut, who always seem to have a line of eager customers waiting for their hot, freshly made doughnuts, Borek Shop, a long-standing stall in the marketplace, their borek with cheese and spinach is a crowd favourite, and Koko Black, a chocolatier selling their creative chocolates that are almost too good to eat (we said almost).
The best thing about the food-stalls at the Queen Victoria Markets is their prices. Just because you're not paying the prices found in nearby restaurants, it doesn't mean the quality – or taste – is any less amazing, if anything, it may even be better. This is a great way to spend a day or an evening eating, browsing and relaxing in great company for less, and you'll also pick up a few grocery items for less seeing as you're buying straight from the farmer.
If you're looking to get the most out of your visit to the marketplace then you can sign up for a tour. These tours will take you to some of the stalls to learn about their products and taste a total of 10 delicious treats including the city's famous hot jam doughnut and a glass of wine from a local vineyard.
The markets are open to the public every Thursday to Sunday and Tuesday, check their website for specific trading hours as they vary from day-to-day.
If you're looking for more things to see and do in Melbourne check out our full region page with a list of tours, activities, attractions and more!